Hey Everyone,
I thought I'd open this up to the Community. I'm about to invest in some ad placement on
CCLI.Com
for TheWorshipCommunity.Com. We need an inspiring, catchy ad that is 300x250.
Below is a sample 300x250 ad that I saved off the CCLI Site: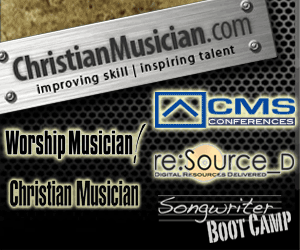 Our original ad for the "referral contest" is ALMOST that size; however, I don't really think it inspires people to click away and leave one site to find us:
This graphic has the picture element of a worship service, and our name, but I'm not sure it invokes a "click".
Since I'm no marketing guru, and I'm most DEFINITELY not a graphic designer, I'm asking for your help. There is no financial reward here - if you'd like to contribute, just email or post your ad here. I'll get a panel to choose from all the submissions, and of course, we'll give you a hearty pat on the back, and a blog post and TWC email announcement about the winning graphic with links to your site/blog, etc.
WHAT WE WANT TO COMMUNICATE:
However we can do it ... we need to communicate in a 300x250 ad, that we are:
1. TheWorshipCommunity.Com site
2. Discussions are about worship, music, technology, leadership, ministry, resources
3. The ad needs to be about "them" ... the person viewing the ad, and what they can benefit, what they are missing.
Personally, some of the most appealing things about TWC include the networking, the technology ideas, and seeing how other WL's in other churches "do their thing".
If you'd like to participate, design your graphics, and post in this thread! The sooner-the-better!
Fred